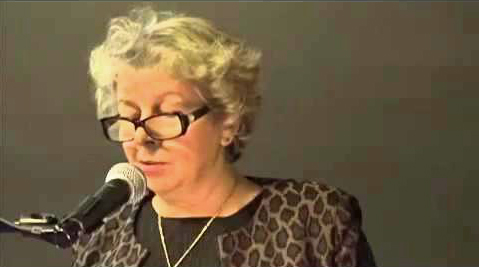 Faryar Javarehian is an Iranian architect and curator, born in Mahshad, Khorasan, raised in Paris, France and educated in the United States. She studied at the University of Texas at Austin, where she earned a Bachelor of Architecture with High Honors in 1973, then at MIT and Harvard where she received her Master's in Urban Design in 1976.
She co-founded Gamma Consultants recognized as the leading office in Museum and Persian Garden design in Iran. Her buildings have been widely published in Iranian architectural magazines and established her as having a recognizable Iranian-Modern style. In 2009 she won the competition to build the new French School in Tehran, and is working on several museum projects.
The exhibitions she has curated cover the fields of architecture, landscape, photography and cinema.
She is the author of Gardens of Iran: Ancient Wisdom, New Visions, Tehran Museum of Contemporary Art Publication, 2004, Thirty Years of Solitude, Cambridge University Publication, 2007, Towards the ineffable: Farideh Lashai, 2015 and Architecture For The People, By The People for the 2016 Venice Biennale, plus numerous articles in MEMAR to which she contributed as an editor.
She has served as Jury member on many national and international competitions, and was a member of the Master Jury of the Aga Khan Award in Architecture in 2010.
She has widely lectured in Iranian universities, as well as Oxford, Cambridge and Stanford universities. She was a Visiting Scholar at MIT for the academic year 2014-2015 to do research on her exhibition, the Art of the Iranian Picnic held in Golestan Palace Museum in 2017.
In 2018 she retired to write her memoirs and settled in the South of France.
Gamma Consultants
Gamma Consultant was co-founded by Faryar Javaherian and Fereydoun Bader in 2004. It has collaborated on several projects with Seyed Hadi Mirmiran, and designed the interiors and completed the architecture of the Great Khorasan Museum, originally designed by Mirfendersky. The firm won a Best designer awards from Miras in 2013, and many other awards and distinctions. It has a number of museum designs and garden designs in its resume and has completed one more museum in 2018 in Tehran, The Calligraphy Museum of Iran.
Fereydoun Bader
Was born in 1948 in Tehran, graduated from Alborz High School and studied and worked for thirty years in the US. He earned a B.Arch and an M.Arch from the University of Texas at Austin and worked for major architectural firms in Houston and for SOM in Chicago for ten years, and earned them many distinctions and a Gold Medal from AIA.
Some of the most important projects he built in the US are the Marathon Oil Headquarters in Houston and the chain of Memorial Hospitals. He was one of the designers of Terminals C and D of Intercontinental Airport of Houston. He then co-founded the architectural firm of "Prozign" in Houston.
He has been back to Tehran for fifteen years and has co-founded the architectural firm "Gamma" with Faryar Javaherian.
Acknowledgements
Architecture is a team work and I had the luck of having great colleagues, Azadeh Shahcheraghi, Shahab Azima and Masoud Ali-Babai were founding members of Gamma.
Azadeh left us early to get her Ph.D. and has since written two books on the Persian Garden. Throughout the fifteen years since Gamma's creation we had the good fortune of working with Reza Najafian, who came as an intern and worked with me on the Damavand houses for about two years, Reza Mafakher who worked in our office for six months on the Chabahar Hotel, and then the two of them created Xema Office and we worked together on the New French School together. Both are now two of the most prominent young architects of Iran. Mohammad Jorjani worked most of our renders and evolved from early 3D Max in the Mojadam house to complicated and very realistic 3D's in Park Terrace or Ribbon of Light. He is now in Australia. Seyd Saleh Niakouee worked with us for a long time, became a landscape architect and now works in Canada. Maryam Rahimi-Danesh was one of the most talented architects we had and she also now is working in Canada. Shima Shayegan worked for the last five years in our office and is now teaching at Soureh University. Shooka Motamedi is now teaching at Azad University and finishing her Ph.D. Faranak Iravani is now in Canada. Neda Kazemi is a prominent architect herself and recently had a jewelry collection shaped on geometric figures. Yasaman Karimbakhsh was my dutiful architect, and my two personal assistants through these years, Jila Aryaiee and Neda Dibazar were like my own arms.
Many others came and worked with us for shorter periods, namely Elnaz Shojaie, Rouzbeh Nouri, Leila Fakhr and others whom I might omit here — and I apologize to them — and my two nieces, Samin Mesgaran and Mina Bozorgmehr. I am infinitely indebted to the endeavors of all these young architects who collaborated on our projects.