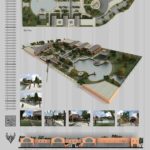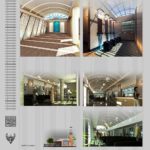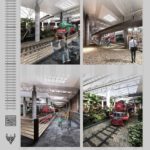 | | |
| --- | --- |
| Year | 2010-2011 |
| Location | Tehran |
| Area | 15000 m2 |
| Client | Iran Cultural Heritage, Handicrafts and Tourism Organization |
This elongated 4-hectare land is adjacent to the Bahman square, which has become a cultural pole in Southern Tehran ever since Karbaschi, former Mayor of Tehran, decided to turn the Bahman slaughterhouses of Tehran into a cultural center. Moreover, this land is right to the southern edge of Tehran's Railway Station, designed by a Polish architect and built by German engineers in 1930 during Reza Shah's reign.
Tehran and its suburbs count 20 million inhabitants and really deserve to have a Railroad Museum, which we designed as an amusement park for children as well as a serious historic museum for adults. The coal-engine and first train used during Nasser-al-Din's reign was supposed to be renovated and begin a trip from this museum to Shah Abdol Azim shrine… We designed this museum with utmost care in the smallest details over a period of one year, but unfortunately the people in charge switched and this project was abandoned.
---
Other projects in the same category