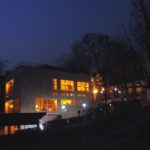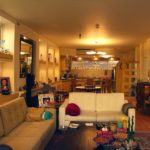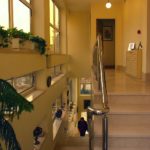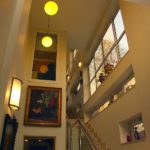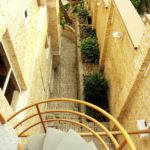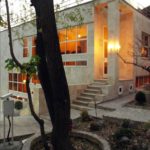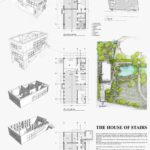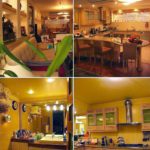 | | |
| --- | --- |
| Year | 2004-2005 |
| Location | Farmanieh, Tehran |
| Area | 450 m2 |
| Client | Dariush Bakhtiar |
We also called this The House of Stairs because it had three different sets of stairs: the main one inside which links the various floors, the large one in the garden following the slope of the land, and the tight one in the back along the canal of water which trickles down the site.
This relatively large apartment of 310 m2 is located in a large garden of 2500 m2 where the client intends to keep and renovate his paternal house, which was labelled The White House by many before the Revolution. We also drew the renovation plans for this main house, while designing this apartment, into which the client would move during the renovation of the main house.
The garden has a qanat surging up at the top and trickling down various canals, and very old plane trees. The site had a very strong genius loci and our main concept of design was not to scar the landscape. Thus, we opted for a small footprint, elevated on three floors.
The western canal dictated a 3-meter setback and created a koucheh baghi – a small garden alley – where the steep slope warranted the steps, and many window openings on this side let the sound of gurgling water into all rooms. The main concept is an elongated loft, open on all four sides, and layers of transparency because the main stairs leading to the various floors of the apartment are on the garden side with the best views, necessitating another layer of glass to keep those views.
Finally, it was still important to create a monumental object – the client was a Bakhtiari Khan – although once the renovation of the main house completed, this would become a guest house.
The client did use our renovation plans for the main house, but called on a young architect to supervise the construction a few years later.
---
Other projects in the same category