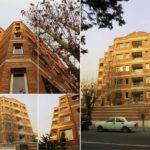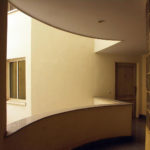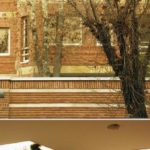 | | |
| --- | --- |
| Year | 2001-2004 |
| Location | Farmanieh Avenue, Tehran |
| Area | 1500 m2 |
| Client | Ettehadieh / Moussavi |
This is the first of three residential projects we designed for developer-architect Nasser Moussavi and the second project for his partner Touraj Ettehadieh who had lived in the Pirayesh buildings for 16 years and wanted a new building designed by me. In this project, Moussavi had designed the apartment floor plans and we were responsible for the facades, the courtyard and the lobby design. Anahita Ghabaian, married to Touraj Ettehadieh, had inaugurated in Tehran the first Photography Gallery, opening it with an exhibition of Abbas Kiarostami, a close friend, then moved her Silk Road Gallery to this building which is otherwise totally residential. Ettehadieh, also CEO of Farzan Publications, wanted an auditorium in the basement where many of BOKHARA Magazine's meetings were held.
---
Other projects in the same category