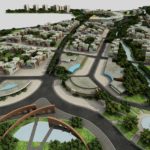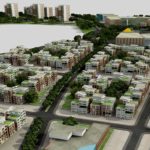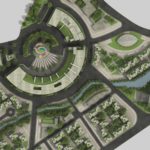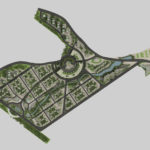 | | |
| --- | --- |
| Year | 2011 |
| Location | Karaj, Iran |
| Area | 110000 m2 |
| Client | Ministry of Urbanism |
This was an invited competition of ten firms, organized by the Ministry of Urbanism. We did not win, but as many competitions in Iran, the project was not built. The program of the competition was very precise in terms of floor areas for each category of housing and other uses.
The land is located south of the Morvarid (Pearl) Palace of Princess Shams, designed by William Wesley Peters who was Frank Lloyd Wright's protégé and who headed the Taliesin Associated Architects, and surrounded by beautifully landscaped grounds and a lake. Thus, we placed all the high-rise housing on the northern edge of the land so that they would have the best views to this majestic complex. Our other concepts were a grand gateway into this new town, a main street leading to the town center, a small creek enhanced in order to create a nature path which disrupts the ordered geometry. The circle of the town center was based on the design of Firouzabad, old Sassanid town in Fars province.
---
Other projects in the same category